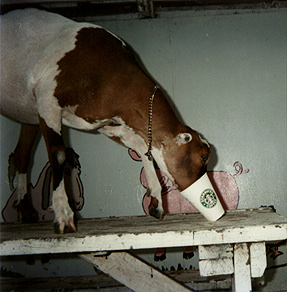 Java
Enhanced
Goats
---
Java is a programming language that allows interactive Web Pages to be created. To use the pages below, you'll need a Java enabled web browser, such as Netscape Navigator (Versions 3.0 and above), or Microsoft Internet Explorer (Version 3.0 or later). Play with one of the Java Applets:
Catch the Leaves. An interactive game in which you control a goat trying to get a meal.
Goat Anatomy Quiz. Displays a picture of a goat and quizzes you on goat anatomy
Goat Animation. Displays a picture of a goat that runs across the screen. You can control the goat with the arrow keys or mouse.
---
Back to

Pygmy

Forward to Goat Care

---
Back to The Goat home page The Goat home page
Back to The Information Dirt Road home page The Information Dirt Road home page

These pages were designed by the Computer Science project of the Irvine Mesa Charros 4-H Club